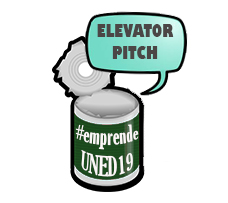 Although with a day of delay, we wanted to share with you something that we have been going around since the last edition of our Business Creation Program: The preparation of your Elevator Pitch. For Those projects that you are at that time (either in the idea phase, in development, or in expansion of it) in which you need a little push, be clear what to say and how it is fundamental. Then we give you some clues of what to consider in your preparation.
What do you want to get? What is your goal: money, mentoring, counseling, a space where you develop your idea…
How we want to tell: whether in "in-person format", video or virtually, you have to take into account what resources to use. It is Not the same to present a video, to tell it, or to do it with or without support resources (presentation, tablet…). Currently, experts use the format "storytelling" to give an emotional push to what accounts and transmit all your energy and motivation through this format.
Describe the specific aspects you should include: The key ideas you should say yes or yes. For example:

The need your project will solve.
Who you are and your experience.
Why can you bring this project to success?
Data that show the knowledge you have of the market you are addressing.

Use a language adapted to your listener, it is not the same to speak to someone expert in the subject, to face a round of financing to a cast of potential investors.
Prepare the answer to possible questions from your interlocutor. Learn specific data just in case.
Practice Your speech! Keep in mind that it is possible that you only have one chance and you must put everything on your side so that Cale in the listener. But Watch, do not lose freshness memorizing data, the Elevator Pitch should reflect the whole of your project and those behind it.
We leave the link to a video that can give you a simple view of several aspects to take into account and real videos with examples you have in open Madrid + D Good Week!